Our Staff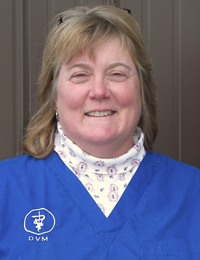 Dr. Susan Albright- Veterinarian/Owner
Dr. Albright has practiced and lived in Chenoa since 1985. She came to work at Chenoa Veterinary Clinic after receiving her Doctorate from the University of Illinois College of Veterinary Medicine in 1985. She purchased the clinic in1988. Dr. Albright completed her chiropractic training through the AVCA and her acupuncture training through the Chi Institute in 1999 and 2000. In 2011 she completed all four levels of Healing Touch for Animals training. When she isn't working, her hobbies include trail riding and team penning. Her blue "healer", Tres', comes to work with her every day and can often be found up at the front desk waiting to welcome you. She also has a house cat, Fate, 4 barn cats: Cry Baby, O.J., Miss V and Indy, and four horses: Roany, Reyjey, Susie and Big Jim at home.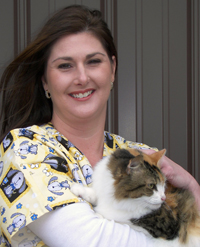 Taushia Elam - Certified Veterinary Technician
Taushia has been employed here since May 2002. She graduated from the Veterinary Technology Program at Joliet Junior College with an A.A.S. Her hobbies include riding horses and camping on the weekends. She has two dogs: Remi and Annie, three cats: Emma, Toby, and Lily and her horse, Lucy.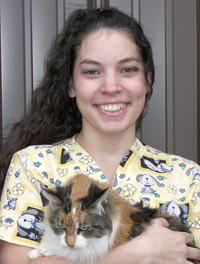 Briana Flannery - Veterinary Assistant/Kennel Staff
Briana has been employed here since November 2007. She graduated from Olivet Nazarene University in May 2007 with a B.S. in Zoology. She loves working with pets and their owners. When she's not at the clinic, she enjoys playing French horn in her church orchestra and playing "soccer" with her husband and their 14 year old husky/lab mix, Kady.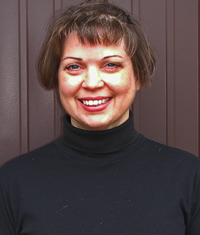 Kathryn "Kitty" Jackson - Groomer
Kitty started working with us in July 2011, but she was a client long before that. Since receiving her B.F.A. from Illinois State she has become an internationally known artist. Locally, her sculptures can be viewed in the Central Illinois Regional Airport in Bloomington or on her website, www.kathryncapley.com. When she's not grooming, Kitty enjoys volunteering at Happy Hearts Haven where she oversees the large animal division.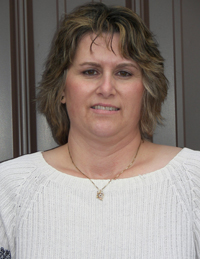 Angie Arbogast - Kennel Staff
Angie has worked here since June 2008. Although working at Chenoa Veterinary Clinic is a second job for Angie, she insists that it doesn't feel like a job to her. She loves seeing the animals' happy faces when she comes in to take care of them on the weekends. When she isn't working, Angie spends any spare time she has with her family, which includes Jozie, her rescued, 4 year old pit bull mix.
Clinic Cats - Greeters/Complimentary "Cat" Scanners/Fuzzy Paperweights
We have several cats that call our clinic their home: Snausage, Varmet, Jinger, May and Gracie. May and Gracie are long hair calico twins and are often at the front desk competing for your attention. Varmet is a brown and black tabby and is usually playing with her toys that she has scattered all over the clinic. Snausage is grey and Jinger is orange and white and both of them spend most of their time in the back of the clinic away from the limelight. It is a rare treat to see them during appointment hours!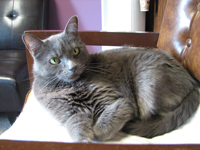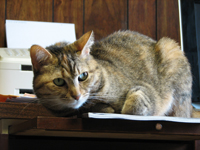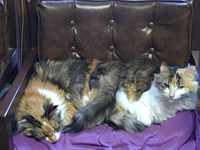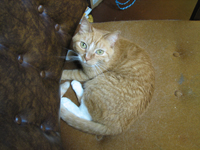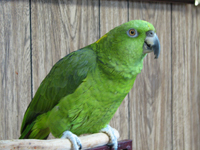 George- Yellow Naped Amazon Parrot

While he isn't often seen during clinic hours, his talking is often heard easily from the waiting room. George is very sensitive about strangers, so he usually stays on his perch in the back office where he feels safe. He loves to sing and whistle, especially his favorite tune "How much is that doggie in the window?" His favorite snacks include cheese, crackers and Cheetos!
* Photos courtesy of Danae Boesdorfer Photography